Kickin' Chicken Quesadilla with Chillilicious Red Pepper Chutney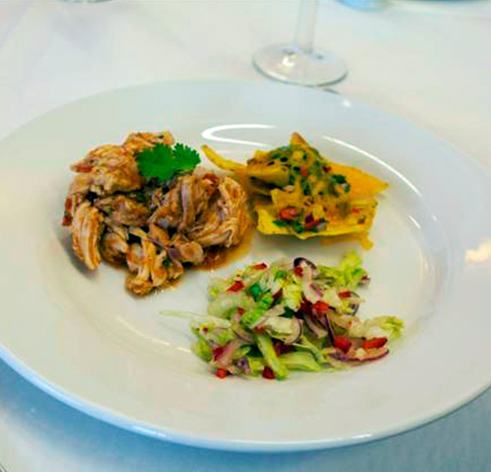 Ingredients
(Serves 4-6)
2 tbsp Chillilicious Red Pepper Chutney
200g boneless chicken thighs & 200g chicken breast
500g tinned chopped tomatoes
50g chedder cheese
1/2 an iceberg lettuce (finely chopped) 4 cloves garlic
6 tortilla wraps
1 tbsp pickled jalapeños & 1 1/2 red onions
2 tbsp dark soy sauce & 2 tbsp Worcestershire sauce
4 tbsp red wine vinegar
5 tbsp honey & 2 tbsp sugar & 2 tbsp red wine
Dash of tabasco & dash of oil
Salt and pepper for seasoning
For the sauce
Dice onion and chop garlic very finely, add to pan and soften with a little oil on a medium heat.
Add the red wine, red wine vinegar, soy sauce, Worcestershire sauce, tabasco sauce, Chillilicious Red Pepper Chuntney, honey and sugar. Allow to reduce by a third.
Add chopped tomatoes, simmer for 15-20 mins then season.
For the chicken
Remove the skin from the chicken thighs, chop the breasts in half and place all the chicken in a deep oven dish.
Add the sauce and mix thoroughly making sure the chicken is covered. Allow to marinate for 4 hours minimum.
Cover the dish and place in the oven at 120 degrees for 2 hours then uncover and cook for a further 10 minutes at 180 degrees.
Once chicken is tender, place onto a plate or a large mixing bowl and fork apart until it is all shredded. Pour remaining sauce over and mix in.
To finish
Place tortilla in a dry low sided frying pan on a high heat.
Quickly grate cheese on the upper side of the tortilla then add a generous scoop of chicken mixture. Add jalapenos.
Fold tortilla in half whilst in the pan to make a half moon shape. Slide onto a plate alongside some lettuce and red onion.
Enjoy!



Recipe created by James Finlyson of SRUC Elmwood College
Runner Up of The Chillilicious Cook Off 2014